"If while one is praying, he regards and considers the fact that he is conversing with God with more attention than the words that he utters, he is making vocal and mental prayer at once, which may be of much advantage to him. But if he does not consider with Whom he is speaking, nor what he is saying, it may be thought certain that, however much he may move his lips, he prays very little."
--St. Teresa of Avila
"There is a certain method of practicing the presence of God, by which, if the soul chooses, she may remain always in prayer and constantly enkindled and inflamed with the love of God. This consists in realizing, in the midst of our occupations, that we are doing the will of God in each, and in rejoicing and being glad that it is so.
--St. Alphonsus Rodriguez
"As our body cannot live without nourishment, so our soul cannot spiritually be kept alive without prayer.
--St. Augustine
"We must pray without ceasing, in every occurrence and employment of our lives—that prayer which is rather a habit of lifting up the heart to God
as in constant communication with Him.
--St. Elizabeth Ann Seton
"Pray with great confidence, with confidence based upon the goodness and infinite generosity of God and upon the promises of Jesus Christ. God is a spring of living water which flows unceasingly into the hearts of those who pray.
--St. Louis de Montfort
"It is not so much the length of a prayer, but the fervor with which it is said which please Almighty God and touches His Heart.
--St. Louis de Montfort
"Prayer ought to be humble, fervent, resigned, persevering, and accompanied with great reverence. One should consider that he stands in the presence of God, and speaks with a Lord before whom the angels tremble from awe and fear."
--St. Mary Magdalen de' Pazzi
"When we pray, the voice of the heart must be heard more than that proceeding from the mouth."
--St. Bonaventure
+Please remember in your daily prayers all those who are suffering. +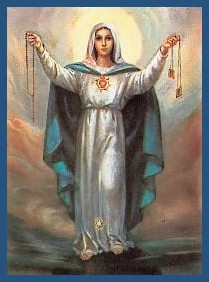 + Our Lady, Queen of the Most Holy Rosary, pray for us! +